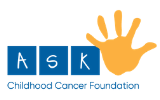 ASK Childhood Cancer Foundation was founded in 1975 by a small group of parents of pediatric cancer patients at MCV Hospital. They joined together to provide mutual support, to search for answers and to cope with the devastating diagnosis. They started to make small changes: collecting books, toys and games to help their children pass the time in the clinic and they organized parent gatherings for support. These volunteers became the founding members of ASK. Their mission was simple and remains unchanged today as we continue to strive for ways to make life better for children with cancer. ASK provides direct support services to the more than 100 children currently being treatment in Central Virginia and the 500+ survivors. Our FY17-18 results include: At the ASK Pediatric Hematology/Oncology Clinic at the Children's Hospital of Richmond, we provided: • 2,900 hours of child life services • 1,571 patients visits by chaplain • 665 psychology appointments Outside of the hospital setting, ASK provided the following in our community: • $97,795 in financial assistance to help 78 families with bills and everyday expenses. • Year-round social events with a combined total attendance of more than 1,000 patients, survivors and family members. • Fifteen survivors received a year of personal training and a family membership through our partnership program with the YMCA of Greater Richmond. • Eight families received help with home repairs and dream bedroom makeovers for their children through our partnership with the Home Building Association of Richmond. In the area of education, ASK provided the following: • Full-year of preschool for fifteen young patients, survivors and siblings. • Afterschool enrichment in Richmond, Fredericksburg and Colonial Heights. • Individual online tutoring to help students returning to the classroom after treatment. • Full-Day Summer Enrichment Camp for 100 school age patients, survivors and siblings. • An Educator Conference to inform teachers about how to support ASK kids in the classroom. • A new high school transition program to help our teens and young adults after graduation. Needs: ASK Childhood Cancer Foundation is a local nonprofit that relies on the generous support of our community. ASK has the following needs: • Financial Support: ASK relies on financial support from individuals, corporations and foundation to support our programs. • Snacks & Drinks: Individually-wrapped snacks and drinks are needed for our afterschool programs and to help stock the kitchen in the ASK Pediatric Hematology/Oncology Clinic at the Children's Hospital of Richmond. • Toys: Every December ASK gives out hundreds of toys to patients, survivors and their siblings during the holidays. They are also given out during the year for birthdays. New, unwrapped toys for all ages are needed as well as gift cards for our teens. No stuffed animals please. • Volunteers: ASK relies heavily on volunteers to help run our two 5K fundraising events. We also have volunteer opportunities at the social events we organize for our ASK families. For more information on how to help, please contact ASK's Development Office at 804.658.5910.
Mission Statement
ASK Childhood Cancer Foundation is dedicated to making life better for children with cancer and their families in Central Virginia.
Organization Type(s)
Health Care
Primary Address
5211 West Broad Street
Suite 102
Richmond, VA 23230
Mailing Address
5211 West Broad Street
Suite 102
Richmond, 23230
Phone Number
(804) 658 - 5910

Website

http://www.askccf.org

Facebook

Twitter
History and Background

Incorporation Year
1978
Former Name(s)
Former Name
Association for the Support of Children with Cancer
Programs
Program Name
Chaplain Services and Fund
Child Life
Educational Services and Scholarships
Moving Forward
Pyschological Services
Young Adult Survivors Group
See more details.