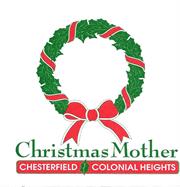 Our program serves qualifying children and elders who reside in Chesterfield County and the City of Colonial Heights. Applications for assistance are taken in September at the Chesterfield County Fairgrounds. A portion of our clients are assigned to individuals or groups who sponsor them by purchasing items for them (Community Sponsored).The other clients are typically invited to the Christmas center to "shop" for their family (Committee Sponsored). Each child in a family will receive a new outfit of clothing (pants, top, underwear, socks), new books, a large age appropriate toy, a smaller toy and several stocking-stuffer type gifts. Elders will receive a household items. Each family and elder will also receive gift cards to purchase food for Christmas dinner for the family. All gifts are distributed at the Chesterfield-Colonial Heights Christmas Mother Christmas Center in early December. This is also held at the Chesterfield fairgrounds. Additionally we distribute gifts to foster children identified by DSS.
Mission Statement
The mission of the Chesterfield-Colonial Heights Christmas Mother program is to ensure that no family is without food, no child is without new toys, books or clothing and no child or elder is forgotten as we celebrate the holidays in our community!
Organization Type(s)
Human Services, Food, Agriculture & Nutrition
Primary Address
P.O. Box 2500

Chesterfield, VA 23832
Mailing Address
P.O. Box 2500

Chesterfield, 23832
Phone Number
(804) 748 - 1183
Email Address
ChristmasMChesterfield@gmail.com

Website

http://www.cchchristmasmother.com

Facebook

Twitter
| | |
| --- | --- |
| Area(s) Served: | |
| | Chesterfield County |
| | Colonial Heights |
History and Background

Incorporation Year
1996
Programs
Program Name
Chesterfield-Colonial Heights Christmas Mother Program
See more details.