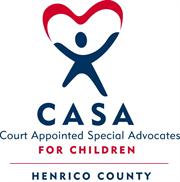 The immediate impact of child abuse and neglect is tragic as it triggers long-term consequences and instability for children as they grow and mature. Child maltreatment is frequently hidden, regularly occurs over time, and is usually preventable. Every child is one caring adult away from a future where they can thrive, and a Court Appointed Special Advocate (CASA) is their champion. By investigating the child's case, the advocates provide the child with a voice. To make this impact, Henrico CASA recruits, screens, trains, and supervises local citizens who become volunteer advocates dedicated to representing the needs of up to 400 abused and neglected children each year. Our 120 advocates become the eyes and ears of the judges and keep them informed about every aspect of each child's life throughout the court process. Henrico CASA is a part of the solution ensuring that no child re-experiences abuse. Without a volunteer advocate, hundreds of abused children will not have a strong, knowledgeable voice to represent their best interests.
Leadership Team

Executive Director / CEO
Barbara Herzog
Chair
Jon Ganues
Board Member
Betsy Beach
Board Member
Kevin Bruny
Board Member
Mario Chambers
Board Member
Christopher Durand
Board Member
Nancy Edmonds
Board Member
Anne Farmer
Board Member
Pat Hackler
Board Member
Fannie Mallonee
Board Member
Mary Jo Sisson-Vaughan
Board Member
Cindy Spangler
Board Member
Jessica Stankus-Smith
Board Demographics -- Ethnicity
Board Demographics -- Gender
Staff

Full Time Staff
6
Part Time Staff
1
Volunteers
130
Awards and Recognitions

Award Name
Awarding Organization
Year Awarded
Best Program Collaboration
Family and Children's Trust
2008
Governor's Award for Outstanding Community Organization
VA Office of Volunteerism and Community Service
2013
Volunteer of the Year
Family and Children's Trust
2008
Volunteer of the Year
Association of Fundraising Professionals
2016
Collaborations
Description
Henrico CASA recognizes that partnerships between those serving abused and neglected children are vital to providing the best service possible, especially in these challenging economic times. Through a layering of community partnerships, Henrico CASA continues to collaborate with a large percentage of our colleagues for volunteer training and our court kiosk and resource guide projects. Based on the newly forged relationships and ongoing relationships with our colleagues, several of our community partners completed continuing education opportunities for our volunteers during the last few years. These partnerships have included....
Department of Criminal Justice Services (DCJS), Henrico Department of Social Services, Virginia Poverty Law Center, Greater Richmond SCAN, Family Center for Counseling and Recovery, and Chesterfield, Goochland, Hanover, and City of Richmond CASA Programs
Kiosk and Program Partner Organizations: The Commonwealth Mediation Group, SCAN/FAM, Commonwealth Parenting, ChildSavers, Safe Harbor, St. Joseph's Villa, Commonwealth Catholic Charities, Clinical Alternatives, Moore Academy, Adoptions from the Heart, The Fatherhood Support Group, Lutheran Family Services, Institute for Family Centered Services, Prevent Child Abuse Virginia, Fan Free Clinic, Salvation Army, Back 2 Basics. The Henrico Department of Social Services, Victim Witness, Not With These Hands.org, Henrico's Domestic Violence Task Force, Family Lifeline, United Methodist Family Services, Metropolitan Richmond Women's Bar Association, U. S. Department of Health & Human Services, VA State Bar, National Institutes of Health, Office of National Drug Control Policy, and United Way of Greater Richmond & Petersburg