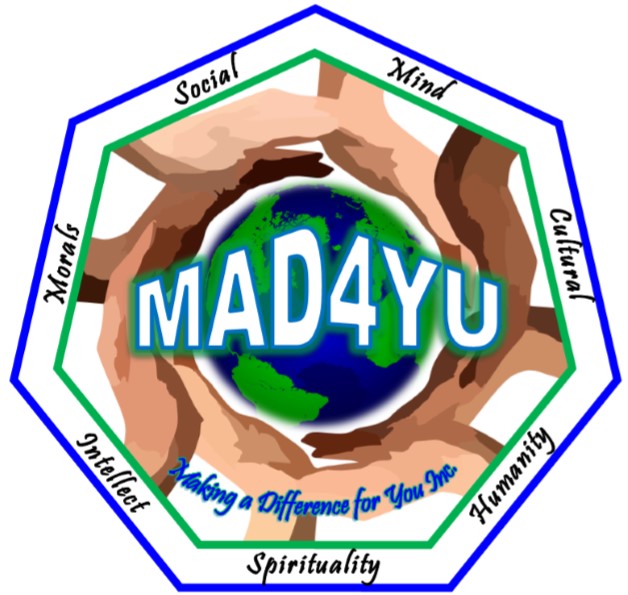 Impact Statement Making A Difference For You, Inc. (MAD4YU) is a grass-roots, Virginia-based, 501 (c) (3) nonprofit organization providing life enrichment services to under-resourced and 'fringe' populations. The name reflects its very purpose: making a difference for you. That is – providing the tools for success – using computer literacy and study skills as the catalyst – to equip those who otherwise might not have access. The acronym MAD4YU signifies the passion and unwavering commitment towards accomplishing that objective: MAD, and motivated enough to provide life enrichment services and programs – For You, utilizing 'MAD-ly' committed and talented volunteers as agents of change. Since 2015, MAD4YU has provided FREE tutoring, life enhancement, and computer training to more than 500+ under-resourced Richmond, surrounding counties and their families (youth K-12, adults, and active seniors) with collaborations, donations, contributions, and assistance of 750+ dedicated, talented volunteers.
Mission Statement
Mission: To Inspire with Courage, Spirit, and Hope. To strengthen the Greater Richmond, surrounding counties and their communities by providing computer literacy and study skills to underserved youth, adults and active senior citizens, resulting in: increased job readiness, reduced dropout rates, reduced homelessness, and increase independence.
Organization Type(s)
Community Improvement, Education, Employment
Primary Address
827 E. Parham Rd. Ste. 6B
Parham One Office Bldg. Parham One Shopping Center
Richmond, VA 23227
Mailing Address
P.O. Box 473

Mechanicsville, 23111
Phone Number
(804) 447 - 7945
Email Address
info@mad4yuinc.org

Website

http://www.mad4yuinc.org

Facebook

Twitter
History and Background

Incorporation Year
2013
Programs
Program Name
ESL-English as a Second Language
Free and Personalized Services & Programs
GED Preparation Program
Homework Assistance and Tutoring Programs
Internet Bootcamp
Managing Money - Accounting and Finance Training
Microsoft Office Training (Windows, Word, Excel, PowerPoint, etc.)
Personal Computer Training
Resume Preparation Program
See more details.
Promotional Video Error: not a recognized file type.