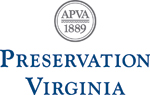 Our Work Preservation Virginia has helped save more than 400 historic places by empowering communities and embracing the places of our past as vital to present and future generations. Our three areas of focus include preservation, education and advocacy. Preservation Our preservation initiatives include owning and maintaining 6 properties open to the public. Through our ongoing partnerships, we are able to extend our efforts to protect and preserve historic places and communities in all regions of Virginia. Education Groups and individuals across the state depend on us as a resource for relevant and timely information and guidance. Through the generosity of our supporters, we teach, share and collaborate for the preservation and enhancement of Virginia's communities through our various educational programs. Advocacy Preserving history requires responsible solutions and an engaged public that recognizes the value of our historic resources. As an advocate for Virginia's historic resources, we work closely with decision-makers to communicate the economic and cultural benefits of preservation. We also encourage the continuation, strengthening and introduction of important preservation-related policies and programs.
Mission Statement
Our mission is to make Virginia's communities and historic places of memory stronger, more vital and economically sustainable through preservation, education and advocacy.  
Organization Type(s)
Arts,Culture & Humanities
Primary Address
204 West Franklin Street

Richmond, VA 23220
Mailing Address
204 W. Franklin Street

Richmond, 23220
Phone Number
(804) 648 - 1889
Email Address
ekostelny@preservationvirginia.org

Website

http://www.preservationvirginia.org

Facebook

Twitter
History and Background

Incorporation Year
1889
Former Name(s)
Former Name
APVA- Preservation Virginia
Programs
Program Name
Advocacy
General Programs
Historic Properties
Jamestown Rediscovery Archaeological Project
Revolving Fund Program
See more details.