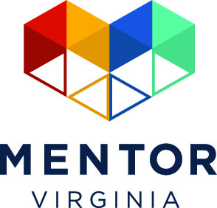 MENTOR Virginia was founded in 1993 to provide training and program assistance to mentors and mentoring programs around Virginia. Today, MENTOR Virginia promotes effective mentoring in Virginia by increasing the capacity of mentoring programs, developing new programs, and advocating for resources to support the mentoring field. MENTOR Virginia is an affiliate of MENTOR: The National Mentoring Partnership.
Mission Statement
To foster quality mentoring relationships that empower, elevate, and encourage young people.
Organization Type(s)
Youth Development, Education, Community Improvement
Primary Address/Mailing Address
201 Hull Street
Suite B
Richmond, VA 23224
Phone Number
(804) 829 - 7236
Email Address
admin@mentorva.org

Website

http://www.mentorva.org

Facebook
History and Background

Incorporation Year
1996
Former Name(s)
Former Name
Virginia Mentoring Partnership
Virginia One-to-One
Programs
Program Name
Data Collection & Knowledge Management
Mentoring Program Capacity Building
Public Awareness & Advocacy
Stakeholder Engagement
See more details.